Fedra de Faria, jewelry craftswoman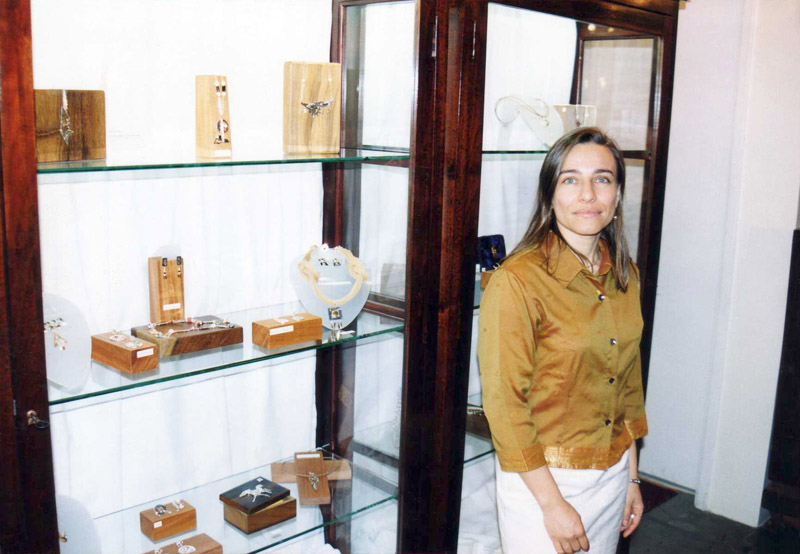 Fedra de Faria, jewelry craftswoman
A young teen in 1978, Fedra followed her mother, a documentary film producer, on a road trip from Germany to South Asia.
The trip was a record of the musical performance tour of the German jazz-rock band Embryo. Along the journey, through all Southeast Europe, Turkey, Iran, Afghanistan, Pakistan and finally India, Fedra got interested in the jewelry craftwork of the nomad tribes they met in the way. Back to Europe, she began to study the technique of handmade jewelry.
At the end of 1980, in Brazil, she joined the group of jewelry artists Escola Nova, with Ricardo Mattar and Marco Duailibi, among others. With them, she had the first exhibition of her work.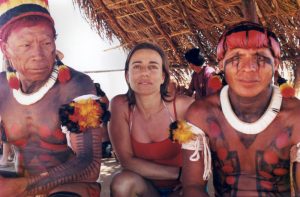 In 2002 she did a long field research in Central-Brazil to know better the Xingu Indigenous People Culture, integrating that into her design style.
In 2005 she started the new line of design Precious Screens that mixes micro paintings and drawings with jewelry.
Nowadays her design and execution in jewelry mix metals like silver, gold, and titanium, with precious stones, organic materials, and micro-art made by her or by guest artists.
Exhibitions:
2018 Mater Gemma – exhibition with 10 artists – Brasiliana Gallery – São Paulo, BR
2014 Collective, Expontaneous – Brazilian Contemporary Jewelry- Brasiliana Gallery + California 120 – São Paulo, BR
2013 Collective, Innermost Pieces – Brazilian Contemporary Jewelry- Brasiliana Gallery + California 120 – São Paulo, BR
2007 Individual, Precious Screens – Brasiliana Gallery – São Paulo, BR
2006 Spring/Summer Collection fashion show – Vice Versa Store – São Paulo, BR
2003 Individual – Quincaillerie Art and Antiques Store of Marco Duailibi – São Paulo, BR
2002 Fair Mundo MIX – São Paulo, BR
2001 Collective – Paulo Nogueira Gallery – Buzios, BR
1997 Collective – Silvia Curt Art and Culture Market Gallery – São Paulo, BR
1986 Collective, Infeitarte I – Crowne Plaza Holiday Inn Hotel Gallery – São Paulo, BR
1986 Individual, Natural Figures – Brasileños Studies Center – Quito, ECU
1984 Collective – Elke Herning Atelier Gallery – Blumenau, BR
1983 Collective of students, alumni, and teachers – Escola Nova Jewelry Gallery – São Paulo, BR
1980 First works – Monica Figueiras of Almeida Gallery – São Paulo, BR